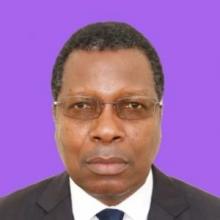 Department of Civil and Environmental Engineering
Biography
Academic Qualifications:
PhD (July 2010) Numerical modelling of potential flows – University of the Witwatersrand, Johannesburg, South Africa.
M. Sc. (August 1987) in Civil Engineering, New Mexico State University, USA.
B. Eng. (December 1984) in Civil Engineering, University of Zambia
Cambridge School Certificate (December 1978), Serenje Boys Secondary School, Zambia.
Employment history
August 2000 - to date: Lecturer, School of Engineering, University of Zambia
Sep '98-Dec '99:  Project Manager, Lusaka Water and Sewerage Company
1994 to '98:  Technical Services Manager, Lusaka Water and Sewerage Company
1993 to 1994:  Senior Engineer, Lusaka Water and Sewerage Company
1987 to 1993:  Lecturer, University of Zambia
1984 to 1985:  Engineer and Surveyor, ZMCK Consulting Engineers, Lusaka, Zambia
Professional Affiliations
Engineering Institution of Zambia
Water and Sanitation Association of Zambia
Research Group
Water and Environmental Engineering Research Group
Research Interests
Hydrologic Modelling of river catchments
Database development for water resources management
Water Resource assessments for water allocation purposes
Hydropower potential assessments of river systems
Water supply and sanitation system designs and modelling.
Publications
Refereed Journal articles
Nyirenda, E., and Taigbenu, A. E. (2010). "3-D Green Element Method for Potential Flows." Proc., Advances in Boundary Element Techniques XI, EC Ltd, Berlin, Germany, pp 462-467. ISBN: 978-0-9547783-7-8
Taigbenu, A. E., and Nyirenda, E. (2010). "Revisiting the Stream-Aquifer Flow Problem with a Flux-Based Green Element Model." Water SA, Vol. 36 (No. 3), pp  287-294.ISSN: 1816-7950
Conference proceedings
Nyirenda, E., "Development of a water resource allocation tool for the Upper Lunsemfwa Catchment in Zambia" Zambia Water Forum and Exhibition, Harnessing Water for Social and Economic Benefits, 5-6 November, 2012, Government Complex, Lusaka.
Nyirenda, E., and Mwenya C., "The Use Of Remotely Sensed Data In Mapping River Catchments – A Case Study Of The Kafue River Basin", 5th Waternet/WARFSA/GWP Symposium, 2nd- 4th November, 2004, Safari Hotel, Windhoek, Namibia,
Nyirenda, E., "Leakage Control Work in Lusaka" The Proceedings of the EIZ National Seminar on Engineering Challenges Towards the year 2000, 29th & 30th August 1997, Lusaka.
Books
Nyirenda, E. (2012). A Time-Dependent Green Element Method for Potential Flow Study in 3-D, First Ed., Lap Lambert Academic Publishing GmbH & Co. KG, Saarbrucken, Germany. ISBN-13: 978-3-659-19811-3, ISBN-10: 3659198110
External Activites
Member, Zambia Commission on Large Dams
Current Research Activities
Development of water resource allocation tools (models) for various river catchments of Zambia
Development of database systems for water rights administration in Zambia
MSc Dissertation title
Water Balance of the Upper Pecos River Basin, New Mexico State University, 1987
PhD thesis title
A   Time-Dependent   Green   Element   Formulation For   Solution   Of   Potential   Flow   Problems   In   3 Dimensional   Domains, University of the Witwatersrand, 2010
Contact Details
Edwin.nyirenda@unza.zm