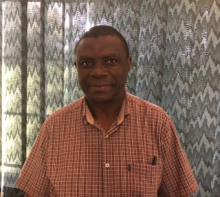 Department of Agricultural Economics and Extension Education
Biography
Academic Qualifications:
In pursuit of Doctorate in Business Administration, Binary University (Malaysia) & University of Zambia, 2014 – 2018.
M.A. (Development Economics) - University of Wisconsin-Madison, U.S.A., 1981.
B.A. (Economics) - University of Zambia, 1974.
Mr. Likulunga joined the University of Zambia in November, 2002 as a Lecturer in the Department of Agricultural Economics and Extension in the School of Agricultural Sciences at the University of Zambia (UNZA). He delivers lectures in a number of courses including agricultural policy analysis, project planning and management, monitoring and evaluation (including application of M&E tools like logical frameworks). He also lectures agricultural finance and agri-business management. Other areas of interest include consultancy/research in various sectors of the economy including cost – benefit analyses, application of cost recovery methods, impact assessment studies, business and management strategic planning, market analyses, institutional reviews, linkages for small- scale farmers/producers to financial and market areas and preparation of project completion reports. Prior to joining UNZA, he had worked in the public sector, starting with Ministry of Planning and Finance, then Bank of Zambia and lastly the Development Bank of Zambia (DBZ) where he rose through the ranks from an economist to Director of Operations. His stay at DBZ spanned twenty years, ten of which at senior management level.
Publications
Selected list of publications
Evaluation of performance of out- grower schemes (contract farming) focusing on cashew nut project in Zambia;
Assessing Factors Driving Smallholder Farmers' Participation Intensity in the Warehouse Receipts System in Zambia.