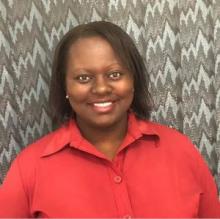 Department of Agricultural Economics and Extension Education
Biography
Academic Qualifications:
M.S. Agricultural Economics, Michigan State University
B. Agric Sc. Agricultural Economics, University of Zambia
Mukwiti Mwiinga-Ngcobo is a faculty member in the department of Agricultural Economics and Extension. and has been with the University of Zambia as a lecturer and researcher since January 2009.  Before joining the University, she worked as a monitoring and evaluation specialist in the private and Non-Governmental Organization (NGO) sectors. 
Until August 2017, Mukwiti Mwiinga-Ngcobo taught undergraduate students in the following courses; production economics, introductory agribusiness management, and project monitoring and evaluation. She is currently pursuing PhD studies in Agricultural Economics at the University of Zambia. Her research interests are in agricultural commodity value chain analysis, impact evaluation studies and economic policy modeling and simulations. 
Publications
On-going Research
PhD research work which is currently in its infancy stage. She proposes to carry out equilibrium modeling and simulations based on the Zambian economy and its agricultural and trade policies, 2017 to date.
Researcher/Data analyst; Development of Cowpea Based Complementary Foods to Contribute to Household Nutrition Security in Zambia. Research worked carried out in the Department of Food Science and Nutrition, at the University of Zambia, under the Agricultural Productivity Program for Southern Africa (APPSA), 2017 to date.
Selected Publications
D. Tschirley, M. Hichaambwa, and M. Mwiinga, (2011) Comparative Assessment of the Marketing Structure and Price Behaviour of Three Staple Vegetables in Lusaka, Zambia. Book Chapter Contribution: Vegetable Production and Marketing in Africa – Socio Economic Research, CAB International, 127-147