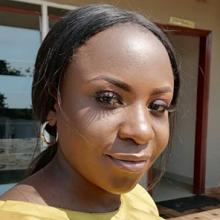 Department of Food Science and Nutrition
Assistant Dean Undergraduates
Lecturer
Biography
Academic Qualifications:
MSc. Human Nutrition (UNZA)

BSc. Food Science and Technology (UNZA)
Bubala Thandie Hamaimbo is Food Science and Human Nutrition professional. She holds a Bachelor of Food Science and Technology and a Master of Science in Human Nutrition from the University of Zambia. Prior to her career in academia, she worked as a Cash Management Officer at Citi Bank Zambia and later transitioned to a role as a Food Specialist at TechnoServe, a not for profit organization. In this role, she was actively involved in providing technical expertise to more than 20 local agro processing SMEs in food processing, food safety, packaging and labelling among others. Currently, she is involved in teaching undergraduate students in processing of meat products and principles of human nutrition. She has continued providing technical expertise to the local community and agro processing SMEs in the areas of nutritious food processing, packaging, labeling and, food safety in the cereals, legumes, vegetables and fruits value chains.
Research Interests
Sustainable food systems, alternative dietary protein sources, net zero and nutritious food processing for improved nutrition and health outcomes, food consumption patterns and nutrition in children and adolescents.
Publications
Current Research projects:
Team member, Comparing Data Collection Methods to Estimate Minimum Dietary Diversity for Children 6 to 23 Months of Age, University of Zambia and USAID (Ongoing)

Team member, Challenges of harmonizing climate related data: Climate change, data and women in the agriculture sector in Zambia, 2022 to data, University of Zambia and Natural Environment Technology (NET) Africa, (Ongoing)